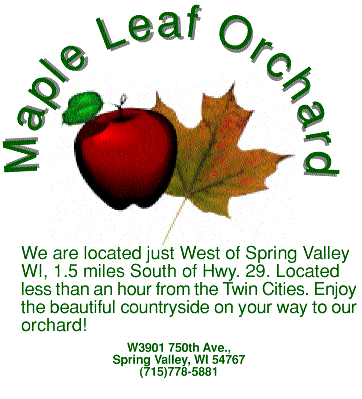 APPLE SEASON open daily 10:00-5:00 Labor Day MONDAY-Halloween (Sept. 3-Oct. 31), and then Wednesdays and Saturdays in November and December up to Christmas.
TART CHERRIES: Spring 2018 has had nice weather for the honey bees to pollinate our fruit crops. The Tart Cherries are forming, and the crop is on track for July ripening. Mark hopes to start bringing Tart Cherries to the St. Paul Farmers Market starting Sat, July 7. No reservations for picked cherries on that first Sat; they will be sold on a "First come, first served" basis. The date of our Pick Your Own Tart Cherry Day will be determined in early July, depending on the weather and ripening speed. When the PYO date is determined, we will add it to this website, to our Facebook page, and to our orchard phone message. Please check back after the 4th of July to check on the picking date and details.
EVERY DAY in the shop, you can taste test some of our 30 varieties of APPLES as they ripen throughout the season, and purchase Maple Syrup made on the farm, Honey from our beehives, fresh unpasteurized Apple Cider, Pears, Squash, Watermelons, Salsa, Pickles, Potatoes, Pick Your Own Grapes, PYO Pumpkins, and more.
WEEKENDS: Pick Your Own Apples on selected varieties based on ripeness and availability, Hayrides, Apple Cider Donuts on Saturday and Sunday, Apple Pies on Friday and Saturday, and Apple Crisp on Sunday. NOTE: The first weekend for these events is Sat, Sept 9.
Call for more info 715-778-5881, or check Facebook each Friday as we list the apples available in the shop, and which apple varieties will be Pick Your Own that weekend. We are a family run orchard employing local families. This is a real working farm, where the fruit is grown on site. We utilize Integrated Pest Management (IPM) to provide you with high quality fruit with minimal sprays. We monitor our orchard regularly for pests by setting out pheromone traps to catch certain insects and only spray when the number of specific pests in the traps exceeds the threshold. Mark monitors apple leaves and fruit for insects and diseases. Our weather station monitors conditions that are favorable for disease development. Mark uses this information along with the stage of fruit development during the year, to make decisions on how to manage pests in the most environmentally friendly way. We strive to take care of this beautiful farm, so it can be producing delicious fruit for generations to come.
Taste the difference of locally grown fruit vs. fruit in the stores that have been shipped long distances and stored for long periods of time.
Visit Mark at St Paul Farmers Market on Saturday mornings May - October.