Check out our Facebook page for Maple Leaf Orchard. You can like us and receive the updates as soon as they are posted.
Pick Your Own TART CHERRIES on Saturday, July 25 starting at 9:00 AM until picked out. NO EARLY SALES! Picking starts at 9:00 AM! Rain or shine. No reservations. Usually we are picked out by noon. $2.20 per pound, 20 cents per pound extra for pitting.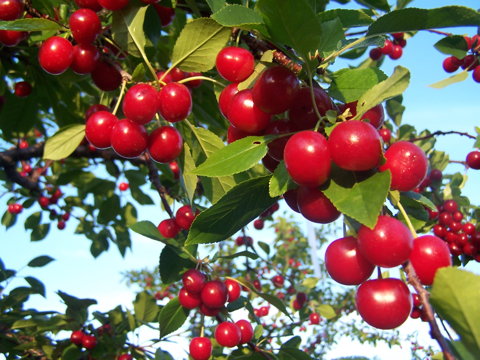 Please bring containers to pick into and to carry your cherries home in. Pre-weigh your empty containers before you start picking. The EUBANK cherry is bright red and more tart, and the BALATON cherry is dark red and slightly sweeter. Unfortunately the BALATON cherry is not as winter hardy, and the trees are dying off, so there are very few BALATON cherries this year. No pets; please keep your dogs at home where they are cooler and more comfortable. You may want to bring bug repellent.
Also available starting Wednesday, July 15, Pick Your Own red and black CURRANTS by appointment 715-778-5881. $2.75/lb. You can pick currants on the PYO Cherry day without an appt. Always available at the farm: Honey, Maple Syrup and jelly from all the fruits on the farm.
Visit Mark at St Paul Farmers Market on Saturday mornings May - October. Check out the St. Paul Farmers Market website for free light rail or Metro bus passes on Sat. AMs to get to the market.
We will be opening Labor Day Monday, Sept. 7 for the fall season and then will be open every day from 10 AM - 5 PM. In addition to Pick Your Own apples on the weekends this fall, we will still have apples available in the shop every day, plus we will have Pick Your Own grapes, raspberries, and pumpkins in our 5 acre patch. Enjoy a fun family experience with our weekend hayrides to Pick Your Own apples (PYO varieties vary each weekend, determined by ripeness and availability). Our bakery is open on weekends with delicious apple cider donuts (Saturdays and Sundays), apple pie (Fridays and Saturdays) and apple crisp (Sundays). Our fresh apple cider is the best! Thank you to all of our loyal customers! See you soon.....