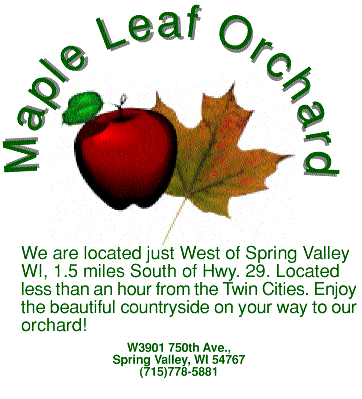 Due to the delayed fall weather, we still have many varieties of apples available in the shop: Honeycrisp, Honey Gold, Fireside, Connell Red, Haralson, Cortland, Regent, Greening, Keepsake, Chestnut Crabapple, McIntosh, Zestar, and 2 varieties of pears: Parker and Luscious. Nov. 1 - Dec. 21 we are open 2 days/week, Weds and Sat from 10:00-5:00, and we'll have apple donuts on Saturdays. Remember our apples and squash for Thanksgiving baking, and maple syrup, honey, and jelly make great Christmas/hostess gifts! Our cider is delicious, hot or cold. HAPPY HOLIDAYS to our loyal customers!
We are now open every day from 10 AM - 5 PM Labor Day - Halloween for the fall season, plus Wednesdays and Saturdays in November and December up to Christmas Eve. We have a WONDERFUL crop of apples this year! You can taste test our 30+ apple varieties throughout the fall season. Apples and pears are available in the shop every day, plus we have Pick Your Own grapes, raspberries, and pumpkins in our 5 acre patch every day of the week. Enjoy a fun family experience with our weekend hayrides to Pick Your Own apples (PYO varieties determined by ripeness and availability-call ahead if you want to know which varieties are PYO each week.). Our bakery is open on weekends with delicious apple cider donuts, homemade apple pie, and apple crisp. Our fresh apple cider is the best! Also available: maple syrup, honey, jellies from all the fruits on the farm, squash, etc..
Visit Mark at the St. Paul Farmers Market on Saturday mornings May - October.

Thank you,
Mark and Sue Christopher
Maple Leaf Orchard