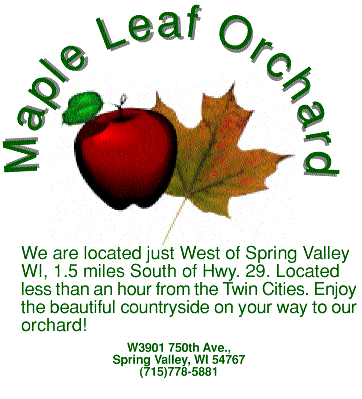 Check out our Facebook page for Maple Leaf Orchard. You can like us and receive the updates as soon as they are posted.
Maple Leaf Orchard is opening Labor Day, Sept. 7, and then we are open 7 days/week through Halloween 10 AM-5 PM. Nov 1 - Dec 23 we are open Wednesdays and Saturdays 10:00-5:00. (See Facebook for updated info.) We will have 30 VARIETIES OF APPLES ripening over the season. We will have PEARS, and Pick Your Own GRAPES, SQUASH & PUMPKINS every day, in season, too. Stop by any day to taste test and find your favorite apple variety for the week! Every day you can select Apples in the shop, HONEY (right from our beehives on the farm), MAPLE SYRUP (made in our maple woods), and fresh, unpasteurized APPLE CIDER that is perfect for making your own hard cider and wine. On the weekends, we have HAYRIDES TO PICK YOUR OWN APPLES on selected varieties, and fresh bakery items: APPLE PIE on Fridays and Saturdays, Apple Cider DONUTS on Saturdays and Sundays, and APPLE CRISP on Sundays. Call for more info 715-778-5881.
We are a family run orchard employing local people. This is a real working farm, where the fruit is grown on site. We utilize Integrated Pest Management (IPM) to provide you with high quality fruit with minimal sprays. We monitor our orchard regularly for pests by setting out pheromone traps to catch certain insects and only spray when the number of specific pests in the traps exceeds the threshold. Mark monitors apple leaves for insects and diseases. Our weather station monitors conditions that are favorable for disease development. Mark uses this information along with the stage of fruit development during the year, to make decisions on how to manage pests in the most environmentally friendly way. We strive to take care of this beautiful farm, so it can be producing delicious fruit for generations to come.
Visit Mark at St Paul Farmers Market on Saturday mornings May - October. Check out the St. Paul Farmers Market website for free light rail or Metro bus passes on Sat. AMs to get to the market.